(UPDATED: April 12, 2012)
The Isle of Man TT is severely long at over 37.73 miles in length. All of the racing action takes place on country and city roads around the Isle of Man. This is one of the greatest races in the world on one of the most imposing racing tracks. Considering how fast these motorcycles can go on public roads and the danger literally faced in every corner, you HAVE to appreciate the fearlessness of motorcycle racers across multiple series that race on the Isle of Man TT course.
--- Snaefell Mountain Course (the Isle of Man TT Course) ---
Here is the 37.73 mile (60.73 kilometer) course: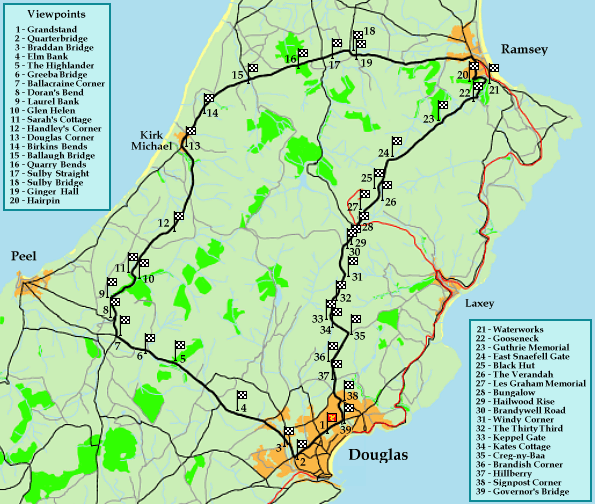 Because I'm scared as hell to race this course in "
Suzuki TT Superbikes: Real Road Racing Championship
" and because I'm completely inexperienced about every individual section, I figured I'd let someone more qualified tell you more about this racing course. That "more qualified person" is Guy Martin. Here is a lap of the Snaefell Mountain Course featuring commentary through the entire video. The video is divided into two parts. So I encourage you to check out BOTH parts of this video to see this course in its entirety:
Part 1 of 2:
Part 2 of 2:
I am not a fan of stupidly long race courses, but this is definitely one of the most intense in the world. FULL respect for the motorcycle racers who contest the Isle of Man.
Thank you for reading!